Moving to Africa in 3 days. THREE DAYS!!! (okay, more like 3 weeks, because we're visiting Andy's family in the UK first) Which reminds me:
CONGRATULATIONS TO ANDY FOR FINISHING HIS PHD!!!
This calls for a Top Five Things I'm Going To Miss…
1. My friends. I have amazing friends. I was going to list them all, but I'm sure I'd accidentally forget someone, and they'd find out, and then they'd get mad, and that sounds too complicated. But if you know me, know this: you're an awesome friend!
2. Thai food. I'm not going to find any of that in the Eastern Cape… buh-bye Pad See Ew. 🙁 🙁 🙁
3. Independent films. I recently saw The Fall, and I loooove this movie!
It was shot in something like 18 countries, and the visuals are absolutely stunning. Not to mention the story is captivating, the little girl (Catinka, I love that name!) is ADORABLE, and the lead actor is pretty hot as well. If this movie rolls into your local art house cinema, check it out! Or put it on your Queue.
---
4.
The Soup. I have a deep and profound love for
Joel McHale
… and I'm really gonna miss his beyond-hilarious show.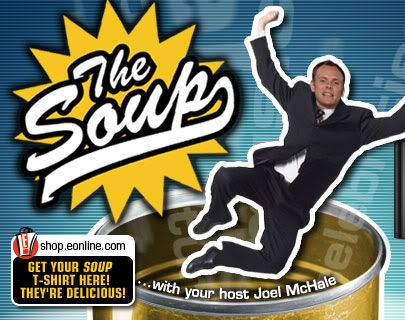 He watches every ridiculous reality show and then shows clips. It's like TV Cliffs Notes, and I don't know what I'm going to do without it!
5. I was torn between 2 things for my #5 spot. Frozen grapes, and high speed internet. Both are amazing. Both are things I will probably not have in Mt. Frere…. Sigh.
---
Now you tell me: What would you miss the most?