Fall always has me feeling very nostalgic. For some bizarre, unknown reason, I miss being in school. Crazy, right? The leaves are beautiful, but it's also kind of morbid. Everything's getting cold and dying. But I do like bundling up under blankets, reading, and watching TV at home… and I love holidays, and all the good ones come in the fall and winter (Andy and I decided to be Buffy and Spike for Halloween, btw).
Okay, so, here are some things that are helping me adjust to the changing seasons:
Sparkly dresses that add a little zing to your day! I've been really into short sleeved dresses lately. They're so transitional.

---
Amazing shoes to go with the cute, sparkly dresses:
---
And finally good movies are starting to come out. Nothing against mindless action flicks (I've seen plenty!) but I'm ready to see an actual good movie. My first pick:
Margot at the Wedding
. I think Noah Baumbach is a really incredible director, and the whole cast is pretty brilliant. The movie looks quirky and heartfelt, but not sappy.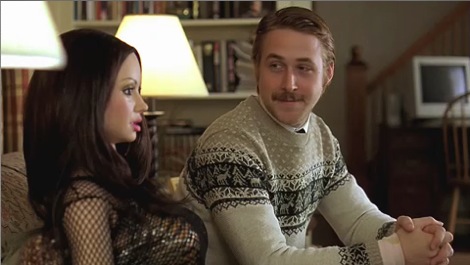 Lars and the Real Girl . I hope other people are as excited about this movie as I am. Ryan Gosling is really cute and the preview practically had me rolling with laughter. It looks so original, and I'm so bored of watching the same movie over and over again. I hope it lives up to my expectations. Also, it's Playing in Manhattan at the Paris Theatre, and that's a great place to see movies. You feel like you've time traveled to the '40s or something.
Also on my movie-going list:
Atonement, based on the book by Ian McEwan. It's not in theaters until December, but it looks so good. Actually, I haven't even seen a preview, but PlainJayne posted about it last month and the film stills are very indicative of a good movie.
---
What I'm listening to: Beirut, The Smiths, Pavement, Animal Collective, Grizzly Bear…. I'm always looking for new music to psych me up for the change in weather, so please give suggestions!! I know all of you have great taste.