I used to work for a nationally syndicated daytime talk show. That's where I got the idea to write Back Talk. I was a researcher, which means I combed through dozens of newspapers looking for over-the-top stories about self-made teen millionaires, prison escapees, people with bizarre diseases… the list goes on and on.
One of my all time favorite episodes to work on was the Time Warp show. We went back in time to 1984. Ask me any random trivia question about that year and I'll have the answer.
Seriously. I will. It was so much fun. I convinced tons of companies to ply us with goodies that we gave away to the audience. We got wayfarers from Ray Ban, and Cabbage Patch Kids, and 80's movies on DVD…
We even had a musical guest. Do you remember that song "Let's Hear It For The Boy" by Deniece Williams? (that link is to an awesome youtube video from the 80's.) The song was in the movie Footloose. Well, Ms. Williams came on the show and performed it! It was the bomb (except she was no longer a hip 20-year-old pop star. She was … older. But it was still a fun performance, and I always do that song at Karaoke now!)
Anyway, in honor of my past life in TV production, I've chosen a few bizarre stories that I think should definitely make their way onto a talk show:
Like this one. Holy OH MY GOD. Did you see the story about the little girl who was DISEMBOWELED in a kiddie pool? Whoa. I almost gagged watching the video on CNN, but it's kind of incredible. This little girl was swimming and I guess she sat on hte drain or something. Anyway her intestines were sucked out of her through the drain. Jesus Christ! Remind me not to go swimming anytime soon! Yikes.
Or this one. How much do you love your family? Would you, for instance, wrestle a rabid fox to the ground in order to protect them? I'd like to think I would, but seriously? A RABID FOX? I don't know if I could handle that. But apparently some 5-year-old kid in North Carolina totally had it in him. I hope he doesn't get rabies.
And from News of the Weird. This is the most ridiculous story ever. A young couple stole a car, but then they decided to stop and do it in the car on the side of the road. Like that isn't dumb enough, they left the car idle, so it ran out of gas and the cops caught them. Oy vey is all I can say.
And just to throw in something a little more glam: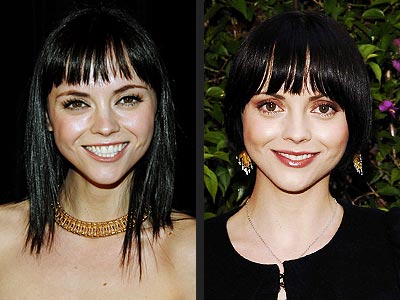 what is up with Christina Ricci's new 'do? (It's the pic on the right.) It doesn't really suit the shape of her face. In general, she is super cute, but she kind of looks like a mushroom cap now.
Actually, wait… I might change my mind. Maybe it's got a fun, retro vibe. I'm so fickle.