Woo hoo! It's July first, and my novel came out today! I'm psyched.
…Okay, so it's not actually *in* every bookstore. In fact, if you think of it and you're at a bookstore, go up to the info desk (hey, sometimes the clerk is a totally hot bookworm-type) and ask them to stock it. That would ROCK!!
And guess what: I've chosen a winner to my apparently very confusing CONTEST!!! That's right folks. I got some really hilarious, creative, and clever entries, but after much angsty deliberation, the winner is…. CountryGirlCityLife!!!
CountryGirl CityLife (who posted in the comments as Jody) is one witty chick, as well as a talented designer, and she just won a signed copy of Back Talk. I chose CountryGirl CityLife's entry because A) I adore Marc Jacobs, B) the iPhone is so hot (in a vomitous kind of way) and C) I love her description of Evan (who WAS the name of the love interest in Back Talk until I changed his name in revisions—spooky!). And thanks for tagging peeps to enter the contest.
I might have another contest soon… but don't worry, it won't be a Top 5 list. haha
What else, what else… I watched the most amazing Nature special on venom. I was just being lazy and watching Will & Grace reruns (it is too hot to do anything else) and I flipped to PBS. Wow. I was completely fascinated. The venom from a certain type of sea snail can be extracted and used as a painkiller. Did you know that? I didn't. Oh, and guess how strong it is?—1000 times stronger than morphine. Holy shnikes! I think I'm going to start TiVoing more Nature shows.

And: can we just have a moment of thanks that turbans are out? I was so not into that look, and according to style.com the turban has been replaced by the babushka look/ cur-chief. To be honest, I'm probably not gonna rock the curchief either (I don't really want to look like an 80 year old grandma, plus my hair's too frizzy), but it's not as stuffy as the turban, which basically just reminds me of old movie stars—not that old movie stars aren't totally freakin' awesome. Uh-oh, I'm starting to contradict myself.
---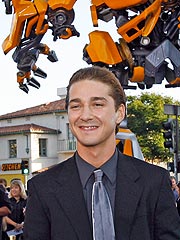 And finally, what has happened to my love, Shia LaBeouf? I thought he was so adorable in Disturbia, but he looks a little slimy at the Transformers premiere. Speaking of which: who wants to see the Transformers movie? I'm torn. I used to watch the cartoon when I was little, but this new movie looks trashy and generic. I think I'll save my $12 for the new HARRY POTTER! Oh yeah, baby.