Okay, this is really embarrassing, but last night I was at Duane Reade buying stuff (you know how you go in there for, like, 1 tube of toothpaste and you come out an hour later with like, $20 worth of crap? Well, that's what happens to me) and MmmmBop came on the in-store-PA. I haven't heard that song in f*cking ages, and I'm loath to admit it, but it actually made me smile. How embarrassing is that?! I was wandering down the greeting card isle actually giddy with excitement thinking about that retarded tween-pop disaster created by Hanson.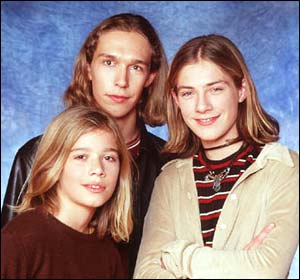 I always felt bad for the oldest one (Isaac?) because he was so freaking unattractive. He kind of looked like a monkey. (I seem to always be equating people to animals, don't I?). I never thought any of them were all that HOTTT, but now they're all married! Can you believe that? I mean, how is that possible? The youngest one is only, like, 13! Okay, maybe he was only 13 when MmmmBop came out. He must be 20 by now (yikes). But still, they're all under 25 and married—and the middle one has 3 kids already. Whoa. Don't waste any time, or anything.
Hmmm… looking back on this post so far, you may be wondering how I know so much about Hansuck. I don't—I swear. I referred to the RandomKnowledgeGods known as wikipedia for my fountain of useless factiods. (Like this one: Apparently May 6th is "Hanson Day" in Tulsa, Oklahoma and the world over. I find that hard to believe, but if wikipedia says it, it must be true.)
---
Oh, and if there are any John Stewart fans out there (and I hope there are, because I think he's a freaking genius, even though I don't get cable and can't watch the Daily Show very often), you totally have to read this book he wrote a few years ago, Naked Pictures of Famous People. It's full of these hilarious short stories/essays, but there is one called "A Very Hanson Christmas" written in newsletter form from their mother's perspective, and I'm telling you, you will pee your pants with laughter. It's buh-rilliant.
I wonder if they ever did an SNL skit about Hanson. I would definitely have cast Amy Poehler as the middle, "feminine" Hanson. Maybe David Spade as the youngest one, and Will Farrell as the awkward, less-attractive Hanson (he can pull off anything). I know I'm picking from different seasons, but it's more fun that way.
---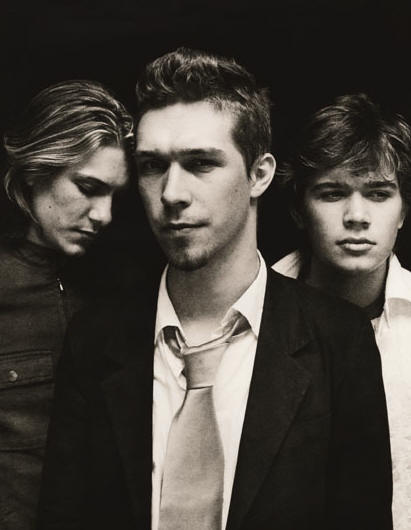 Anyway, I guess Hansuck grew up and now have a couple more albums, but in my mind they will always be the creative masterminds behind MmmmBop. I wonder if they completely resent that song. Maybe, but they probably get to wipe their tears with hundred dollar bills. Ah, to be famous. But come on, next time that song's on the radio tell me HONESTLY that a tiny little smile doesn't begin to dance upon your lips.
One more thing: pretend you HAD to marry one of them, which one would you choose? Purely for entertainment value. I know I asked the question, but I almost don't think I can answer it. I mean, as I said earlier, the oldest one is kind of ugly (though he looks frigging hottt in this picture!), the middle kid (Taylor?) always looked like a girl, and the youngest one… well, in my mind he'll always be a little boy and that's just wrong.