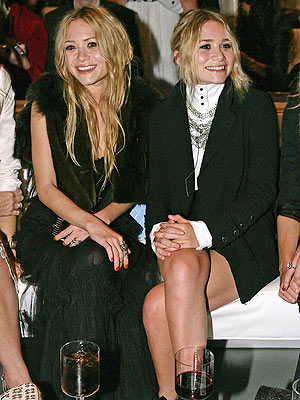 I kept looking at this picture of Mary Kate & Ashley at the Chanel/Lagerfeld show, and thinking to myself, "There's something off about this…" and I finally figured it out. They're smiling! I don't know, but don't they always just look so damn mopey? Okay, I'm lying—I found plenty of pics of them smiling, but somehow, to me, they still usually look extremely brooding and despondent.
It's this horrible catch-22 where they're rich enough to afford all the food in the world, but they're not allowed to actually, like, eat anything. Must be hard.
---
And now there's talk of them becoming the
new Bond Girls
?
Ugh, no wonder they're smiling all of a sudden. I'd smile too if I got to make out with Daniel Craig (wait, is he even going to do another bond movie?). But seriously though. The Olsen Twins as the new BGs? That doesn't sound right. I get that they're PYT's (you know: Pretty Young Things), but I still see them as little obnoxious, catch-phrase-wielding Michelle from Full House. James Bond isn't supposed to have kinky sex with little girls who spent years making movies called
The Adventures of Mary-Kate and Ashley
. I've never watched one of those movies, but I must admit being intrigued by The Case of the Hotel Who-Done-It. Sounds intense!
Anyway, it's just hard for me to picture them as Bond Girls. It doesn't seem fair. Why can't
I
be a bond girl?
---
And speaking of Bond girls, what's your opinion on the last BG, Eva Green? I thought she looked like a duck, but everyone else was like "No, are you kidding! She's frigging beautiful!" Maybe I'm just crazy, or insane with jealousy!!
---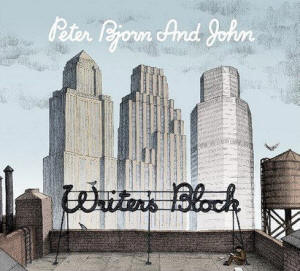 Sorry for the mega-short post. They're all gonna be short for a while, cuz the countdown is at t=-19 days till the wedding.
But let me just say this: If you don't already have the new Peter, Bjorn & John album, I highly suggest getting it, because it's f*cking amazing.