My sister just sent me a link to this article, and I almost died laughing:
NYPD Re-Introduces Segway Patrols On City Parks, Beaches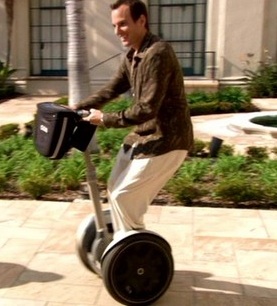 Apparently they used to have Segways, but took them out of rotation in 2004 because the officers could be "in danger" when the Segway's batteries ran low. GASP! I wonder what happens when you're on a Segway and the battery dies? No, no, it's too horrible to imagine. But seriously: cops on Segways? This picture is all I can think of when I hear that. A million Gob's on segways in police uniforms zooming around central park.
Can we just stop for a minute and picture how AWESOME that is going to look?
---
In other news, my beloved Veronica Mars was canceled. I know I'm the only one who cares, but still, I had to report it. The lineup for the Crap-W this fall is going to be like a crazy circus. According to
cnn.com
there's:
Gossip Girl, based on Cecily Von Zeigesar's mondo-popular YA series (god, I want to have her life SO BAD!!) about bitchy private school teens in NYC. Oh, and I think Josh Schwartz (of the OC fame) is head writer.
Aliens in America: About a high school student trying to adjust to the new Pakistani exchange student. (sounds cheesy, but maybe I'm being too un-Patriotic.)

Life is Wild: A drama about a New York City family spending a year at a game reserve in South Africa. (OK, lets take bets on how fast that ones gonna get cancelled. Two episodes? Five?
Reaper: 21-year-old guy's parents sold his soul to the devil and he's assigned to track down evil escapees from hell. (Wait–isn't Supernatural already a CW show?)
I have such a love/hate relationship with TV. There are so few shows I like… and I have a feeling the CW will not be reeling me in this fall.

But a quick shout out to Jaslene on ANTM. Okay, I cannot lie: I was routing for Nata, but it's cool. JasQueen is going to do great things for the tranny community.