OMG, guess who my new husband is… Shia LaBeouf! Wait, let me rephrase that—I saw Disturbia last night and it was kind of awesome and now I'm hot for Shia LaBeouf. Yeah, that makes more sense.
He's so cute! I think I'm gonna start calling him 'boofy. Or Shi-shi. I had no idea we were in love until about 20 minutes into the movie when suddenly I saw how deep and tortured he was. Or, wait, maybe that was just his character. Does it even matter? He was HOTTT!
I thought I was going to hate Disturbia–even the word "disturbia" is so obnoxious (only because i didn't think of it).
It's a modern day Rear Window (which, by the way, is an Alfred Hitchcock masterpiece). The original RW is about a guy who's housebound because he broke his leg. Lucky for him he's got a pair of binoculars, murderous neighbors, and a seriously hot girlfriend (Grace Kelly).
Disturbia is basically the same, except instead of a broken leg, he's under house arrest—which is kind of better, because he can kick ass and not just whine and fall over in his wheelchair. Oh, and the obvious addition of technology. Hitchcock didn't have camera phone or a digital video camera.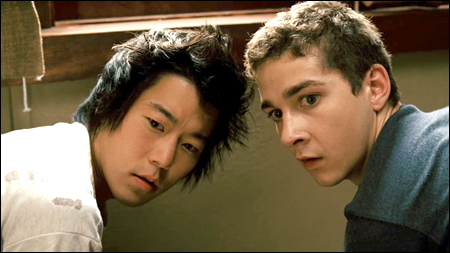 My man 'boofy is very charming as the lead, Kale (I love that name, btw). The dialog is cheesy, but there are clever lines, too. Also, his sidekick BFF is totally adorable. (Okay, so he's a stereotypical "Asian stoner-dude," but he's cute and good for comic relief.)
And of course there's a "hot chick" but I think she looks like a 16 year old Heather Mills, which is a little on the creepy side. She's not a good actress, but the role requires swimming in a bikini and teasing Kale, so how good does she need to be, honestly?
All-in-all, Disturbia was an enjoyable, predictable flick. I have always been a sucker for voyeuristic themes. There's something so cool/spooky about spying, right? Or do I sound like a stalker now. LOL!! There were no "twists" which I found kind of refreshing (coughcoughM.NightShyamalancough). And there was a lot of ridiculously eye-roll-worthy techie moments ("Wait, can we zoom in on that?" and suddenly they can see inside someone's mouth from 100 yards away.) That said, it was still fun, and I thought it was scary. Well, not "scary" scary, but "thriller" scary.
Annnywayyyy…. Disturbia rocked—purely for mindless entertainment. And it was a good excuse to look at hot boys and eat popcorn.