Lets see…

WTF was up with Jennifer Hudson's gold jacket? Thank goodness she took it off when she got inside. It was like some seventies-disco-vampire cloak. Don't think she should have won, but hey, we all knew she was going to.
---

I just think Kirsten Dunst is so adorable. The dress was strange, but I actually kind of liked it from the knees up (not sure what the deal was with those feathers on the bottom.)
---
I don't mean to be a bitch, but I think Penelope Cruz is fugly. She looks like a witch. I think the lack o' bangs made her face looked too harsh. But her dress was totally beautiful (in an OTT kind of way).
---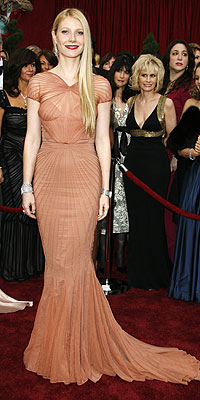 Gwyneth Paltrow looked uh-mazing. The dress was really unique and flattering, and her hair is gorgeous. (check out the psycho blonde in the background. Yikes!)
---
What was up with Beyonce's dress? The leg slit and the neckline jewels were, uh, interesting.
---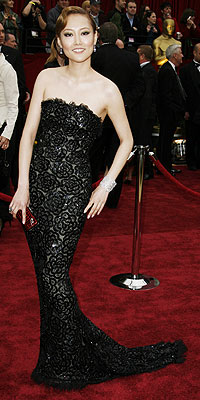 Still haven't seen Babel, but Rinko Kikuchi is uh-dorable. (And why did they keep cutting to her in the audience? The girl doesn't speak english!)
---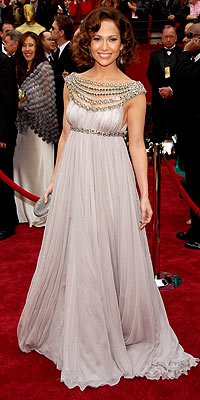 Am I the only one who liked J Lo's dress? Who else could (or would even attempt to) pull that off? I wonder how heavy that thing was…
---
How amazing is Forrest Whitaker? I love him. (Okay, so I haven't seen Last King of Scotland yet, but he's brilliant in Ghost Dog.) And his wife is HOTTT!
---
Look at Jessica Biel's left boob! Can someone tell me if I like this dress or not? Cuz I'm pretty sure I don't.
---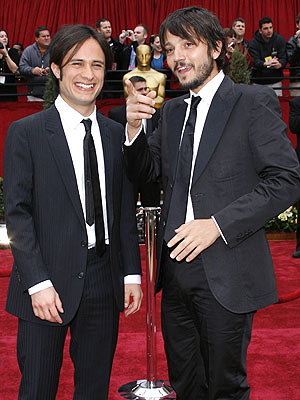 And how adorable were they?
---
---
And my favorite line, I think, was John C. Reily:
"I chose to be in both Boogie AND Talladega Nights."